"I can do things with your cues that I can't do with any others"
- Brad Porcella (Cue Collector)
"After owning and playing with over 500 cues, you get a feel for what is quality and what is cosmetic. Buy a SimaCue for the feel of quality in your hands, you'll have no regrets."
- Lawrence Smith (Cue Collector)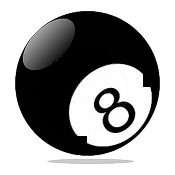 This is the feedback I get from my customers and frankly, it's what I expect to hear. People that have been playing pool for many years are amazed by the control they experience with my cues.
I would like to introduce you to SimaCues. If you're looking for a great American-made product that will last a lifetime, you've come to the right place. In 1985, I went to buy a cue stick. Two hundred dollars later, I walked out with an idea for a business.
Actually, it was more like a hobby at the time. After carefully eyeing that cue stick, I was disappointed to learn that the wood points were nothing more than decals. I thought to myself, for $200, I could do better than that, and I have.
Through the years, I have kept certain signature features for every cue I make. For instance, points, or inlays in the butt and forearm are always made of the highest quality materials. If I describe a cue as having ebony and ivory inlays you can rest assured that is what they are.
The hit of my cues is second to none, from the hardest hitting stainless steel joint and Ivorine ferrule to the softer hit of the phenolic joints. I promise you will not be disappointed. These cues are all about control.
All of my cues are signed. However, the signature is inlaid, not branded. This means if the cue ever has to be refinished, which may involve some sanding, the signature will not be removed with the old finish. This also holds true for the inlays in my cues. All inlays are at least .075 of an inch deep. My third and final promise is that each custom cue is one of a kind. I will never replicate a design or duplicate a cue that is specifically ordered. I will never be the $200 decal man that I have grown to dislike. I promise professional, quality, detailed work.


Ohio Pool Players Association

Pool Lessons by Certified
Instructor John Harlach


Copyright © 2023 SimaCues.com. All rights reserved.
T: 1-440-572-0505 |